All transport companies have different types of service; as a general rule they are organised by priority for delivery, and depending on this the price varies and the conditions change.
At Packlink we show results that match with the origin and destination of your search; however you must bear in mind that if you need your shipment to be delivered on a specific date, you must always contract the service that states that delivery is guaranteed.
What are the services with guaranteed delivery and what are their advantages?
Guaranteed services are delivered on the day and within the time specified by the service.
If delivery is not carried out within the guaranteed time and the delay is the fault of the transport company or Packlink, the customer is entitled to a full refund of the amount invoiced for transport.
The refund of the amount paid for the service will always be made through the same method of payment used by the customer when contracting the service, and the period for it to be refunded is 3 to 7 days from the date the Customer Service Department confirms it.
If the delivery is not made due to issues caused by the customer (incorrect addresses, not at home, rejection, etc.) it will not be possible to arrange a refund in favour of the customer.
Please note how the delivery date is calculated 
How can you differentiate between the guaranteed service in the search results?
In the search result you will find the information in the details of the service.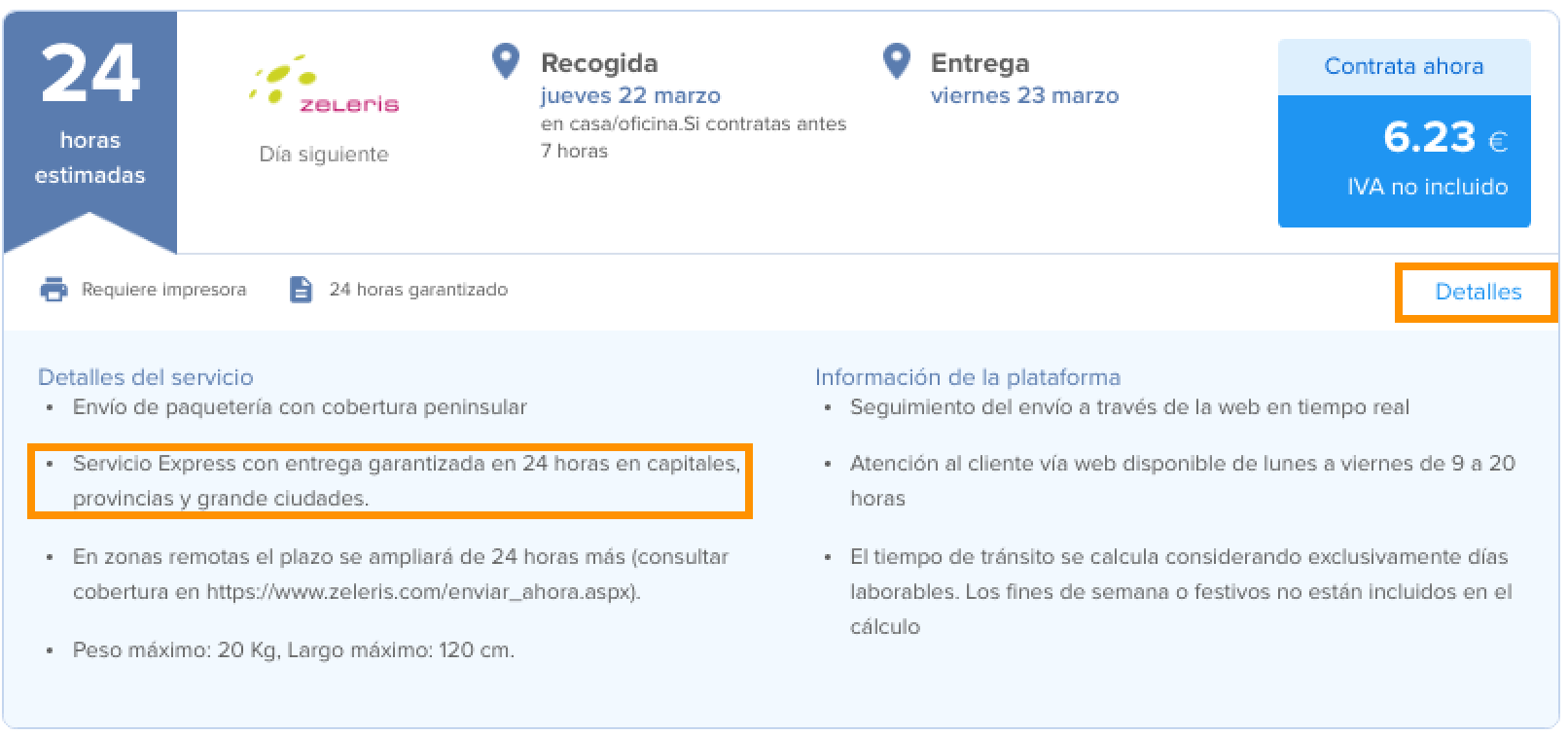 What are the services with estimated delivery and what are their advantages?
The estimated services are delivered over a range of dates that we show on the website as a guide.
The main advantage of these services is their price; in general, they are cheaper.
For the delivery time, Packlink shows the average time of the service and the destination, obtaining this data from the transportation company's efficiency reports and the quality analysis that Packlink carries out monthly.
If you're wondering why you can't set the delivery date on a particular day with these services, the answer is very simple: the transportation company provides these services with less priority than the guaranteed service, so that if their vehicles and platforms increase the number of guaranteed deliveries, these services are transited when there are available means.
Remember that Packlink does not process refunds for non-guaranteed services.
How can you distinguish the service with estimated delivery in the search results?
In the search results you will find the information