You can send wheels or tires with PackLink quickly, easily and economically, but you must take into account a number of important factors to make your shipment run perfectly.

Depending on the size and weight, you can send your wheels in:
Boxes (small sizes)
Pallets (shipping bulkier goods)
The website will offer you the appropriate service for the measurements you indicate.
1. Packaging: Packaging plays a key role in all shipments, but is even more important when dealing with wheels or tires.
The most common error is to send the tyre unpacked and only with the label. Remember that both your goal and ours is that the shipment reaches its destination correctly, so we encourage you to continue reading this article.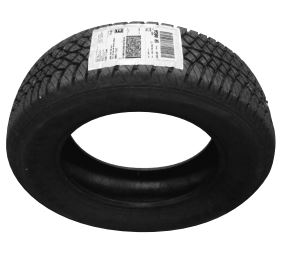 Ideally, the goods should travel in a corrugated cardboard box because the corrugations in its internal structure cushion the shocks that the shipment may experience during the handling, loading and unloading process. In addition, if you use bubble wrap or polystyrene, your shipment will be more protected.
You must bear in mind that if your wheels are not properly protected, in case of breakage, the surface of the wheel itself would be considered part of the packaging, so your shipment will be unusable and can not be claimed for damage.
Finally, you must try not to let the wheel touch the sides of the box to prevent it from bouncing back and being damaged, as shown in the following image: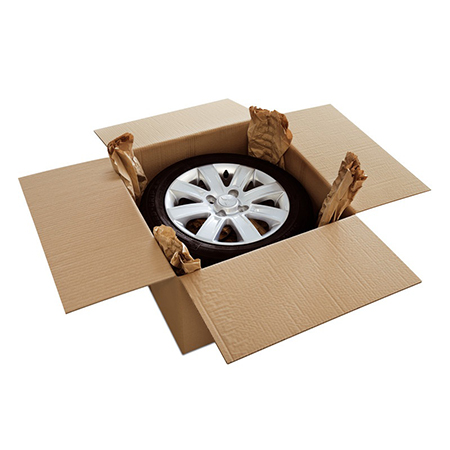 Can't get boxes that fit your size? Don't worry, we offer you an easy and safe alternative: plastic shrink packaging and bubble wrap. They are easily available in DIY stores and department stores. First, wrap the wheel with bubble wrap to get good cushioning, and then retract it generously to fix the packaging.
If we are talking about truck or tractor wheels, bear in mind that, due to their large size and weight, they will need to be sent on a pallet, as they cannot be handled by a transportation company. For more information, click here.

2. Contracting process: It is important to indicate the actual measurements and weight of the goods to avoid incidents with the transportation company; these must be accurate and will be indicated with the package that is already packed and ready to be picked up by the courier.
br>3. Collection of goods: You must bear in mind that the courier is not obliged to load the boxes manually if they do not wish to do so, so we recommend that you are in a place with easy access to speed up the collection.