If you send or receive goods from outside the European Union, you must fill out and attach the customs invoice to the package. Here you'll find the sample customs invoice and the step-by-step instructions on how to complete it.
The following is very important if you ship outside the European Union:
Take care to fill it out correctly,
Use the instructions below as a reference.
Print 3 copies of the customs form and
if your shipment is not of a commercial nature:
print one copy of the sender's identity document DNI (Spanish National Identity Card), NIE (Foreigners' Identification Number), passport
if your shipment is of a commercial nature:
print one copy of tax identification (VAT)
print one copy of the commercial invoice
Put the documents into an envelope and stick it to the package.
You can buy adhesive envelopes in any post office or shop.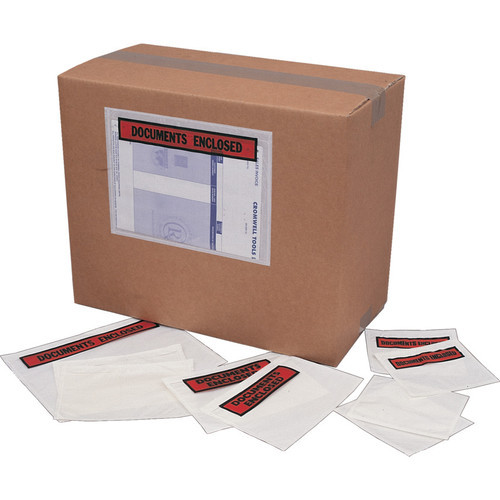 Step-by-step instructions on how to fill in the customs form
You must digitally fill out (documents filled out by hand are not accepted) the customs documents in English.
CUSTOMS INVOICE
The customs invoice is a document that the customs authorities of each country must process and on which the necessary taxes and restrictions are applied. You must select how you wish the invoice to be filled out:
as a commercial invoice
When the content is a sale, the recipient handled the purchase.
as a non-commercial invoice
When the goods that you send are:

personal belongings
a sample
a return
a gift
The customs authorities are especially careful with non-commercial invoices, and they always check that the shipment isn't an undercover sale (undeclared). Don't try to deceive the customs authorities by indicating the incorrect type of invoice, or by indicating an incorrect value for the sent items.
SENDER AND RECIPIENT INFORMATION
Both the sender's and the recipient's DNI (Spanish National Identity Card), NIE (Foreigners' Identity Card) and passport (personal ID) numbers must be indicated, and if it's a company, the VAT number must be provided. Without this information, the package will be blocked at customs.
Tax ID = national identification number in most countries
---
VAT number = identification number with which the company is registered
Make sure that you ask the recipient for their TAX ID or VAT number before sending.
CONTENTS INVENTORY
You have to make a detailed inventory of everything you're sending.
Detailed description of each item in English
Describe each item you're sending in the first column of the table. Use all the lines if necessary
its purpose
the material it's made from
its brand
its size
its use
its intended gender (for example, women's shoes)
any other detail that could describe the item in question
Example
As María was recently transferred to Canada for work, she is sending some of her most valuable personal items to her boyfriend: a poster, a pair of shoes, a mobile phone, a watch and two t-shirts.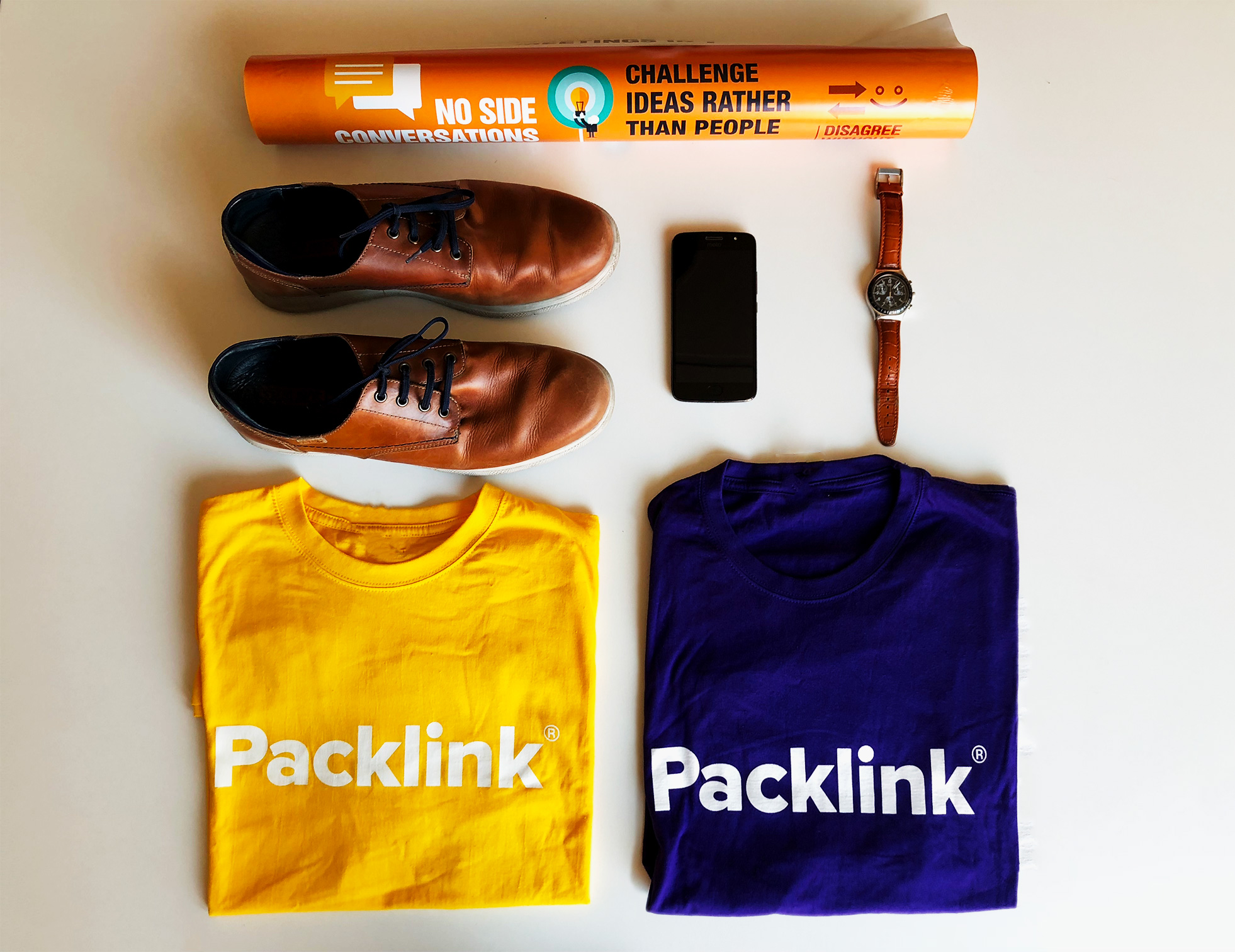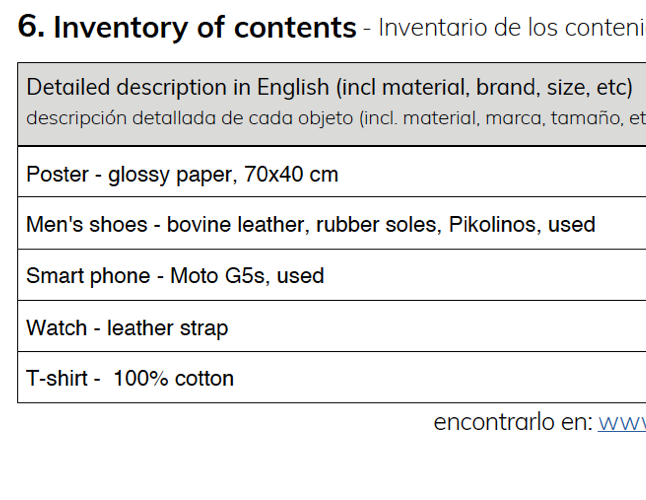 For items that may contain materials originating from animals, such as leather, wool, silk (for example, shoes, jackets, pyjamas, etc.) it's obligatory to mention the material and its origin, whether the material is bovine leather or synthetic.

If your items are used, make sure you mention it in the description.
Tariff Code/Tariff Heading
The tariff code is an international code used by the customs authorities to classify goods. To ensure that your package is delivered without delays, you must specify the correct code.
To find the tariff code, visit www.tariffnumber.com and look for the code at the top. Carefully read the full description of the code before choosing it as the correct one.

Example
Maria needs to find the tariff number of 5 different items. These are the codes she found: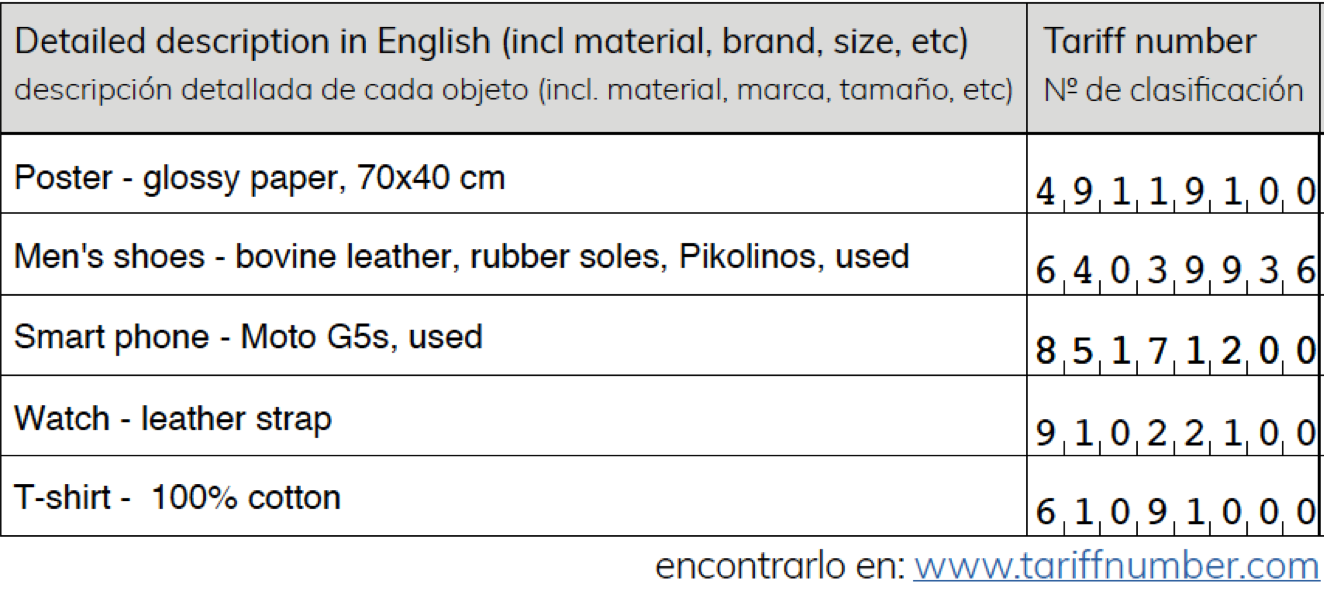 Don't copy these, your items could contain different materials.
Advice for finding the correct tariff number
Think about the materials the item is made from or its uses, as well as its purpose
Once you get results, use your browser's search function (ctrl+f or cmd+f) to highlight keywords in the search
Read from start to finish - make sure it matches your item
Be careful with the text that follows "excl." the keyword, which indicates the number, doesn't represent anything described after that word
If you can't find the item by searching, try with synonyms ('trouser' instead of 'trousers', 'prints' instead of 'posters', 'vinyls' instead of 'records', etc.)
Country of origin
Indicate your item's country of origin. As a general rule, you'll find this on the product label "Made in"
Number of products
If you're sending more than one item of the same type (for example, two cotton t-shirts), you only have to describe it once in the table, but indicate the number of items you're sending. To decide whether you need to describe your items on a new line, ask yourself:
Will the same code number for all the items on this line apply?
If your answer is no, then you need to describe this item on a new line.
If you're sending more than 13 different items, download an additional table from here
Download the additional table
Item Value
Indicate the true value of each item that you've described.
This value can never be zero (0)
If you're sending personal items without a specific value, try to value them as accurately as possible - how much would you sell it for at a second-hand market?
If you're sending items manufactured by yourself, try to estimate the value of the cost of the materials and production.
Writing a value that's not in line with the description (for example, €1 for the latest generation of a Smartphone) can cause delays or block your shipment. In the event that the authorities detect irregularities, they will request further documentation.
Example
Although the shoes and phone are used, Maria detailed their real market value, which she calculated based on their original value and age. This value is approximate, but it's necessary
This is how María completed the customs form:

PURPOSE OF EXPORTATION
Select the correct reason for the shipment. Remember that Packlink doesn't manage temporary exports, only permanent ones
SHIPMENT
DETAILS
Indicate the number of packages you're sending in the correct field. If it's more than 1, add up the total weight of the packages and enter it into the weight field.
Indicating the exact weight is extremely important otherwise you'll have problems at customs. As well as delaying your shipment, it can lead to additional costs.
DUAL USE DECLARATION
This is the obligatory declaration for the customs authorities. It states that what you're sending is not for military use.
If you're thinking about sending something that can be used for military purposes, DON'T DO IT, it's illegal
CITES Declaration
This is the obligatory declaration for the customs authorities. It states that you're not sending anything manufactured with prohibited materials, due to protection laws for species in danger of extinction.
If you're thinking about sending anything that may be made of materials originating from species in danger of extinction (for example: elephant tusk), DON'T DO IT, it's illegal. If you're not sure, you can check it here: http://checklist.cites.org/#/es
DEFINITIVE/PERMANENT EXPORT
Here you'll declare that you acknowledge your shipment will not be exported temporarily, and that the standard customs taxes will be applied. Packlink doesn't handle temporary shipments outside the EU.