With Packlink you can send bicycles. However, you must pay special attention to their packaging.
Tips
We strongly recommend you use matryoshka style packaging (box-in-box), to provide additional stability to the item.
Packaging materials
Please use the following materials while packing your bike:
Double corrugated cardboard boxes, based on both weight and dimensions of the bike.

Plastic bag.
Bubble wrap.

Mouldable foam.

Polyethylene sheets (at least 10 cm thick).

Foam rubber.
Expanded polyethylene corners and profiles.

Packaging tape.
Packaging instructions
Once you have gathered all the materials, please follow these instructions to avoid any damages:
Deflate the tires beforehand.
Pedals, saddle and handlebar are the parts that must be unscrewed and packed separately, using shock absorber and fixed to the bicycle with plastic clamps, to avoid losing any pieces during transportation.
Remember to insert screws and bolts in a plastic bag that you will need to attach with tape to the component of the bicycle to which they belong to make the assembly easier once the bike has arrived at its destination.
Pack the individual parts of the bike, wrapping them in bubble wrap or mouldable foam until you feel they are completely protected.
Use a cardboard box, preferably with a double wave by placing polystyrene sheets on the four sides that will serve as protection for transport.
Make sure that the ends of the components do not touch each other and that there are no gaps that could cause them to move during transport. To this end, you can ensure the safety of your bicycle with

molded foam rubber or polystyrene chips.
Remember to apply the carrier label on the outside of the box. Close and seal the cardboard box with packaging tape.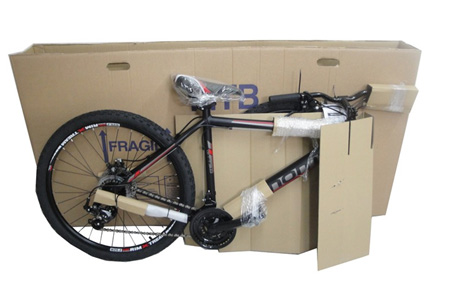 ​ Coverage
In the event of damage, our Claims Department will only consider claims where the items have been transported with sufficient protective material. Any item that is transported without respecting our Packaging Guide will be excluded and ineligible for any compensation otherwise awarded.